Prayer to Ganesha and Vyasa
वक्रतुण्ड महाकाय सूर्यकोटि समप्रभा ।
निर्विघ्नं कुरु मे देव सर्वकार्येषु सर्वदा ॥
vakra tuṇḍa mahākāya sūryakoṭi samaprabhā |
nirvighnaṁ kuru me deva sarvakāryeśu sarvadā ||
O Lord Ganesha with a curved trunk, large body and with radiance of a thousand Suns, please make all my karma free from obstacles (internal and external), always!
Veda Vyasa
Veda Vyasa is a Guru for all knowledge and we must seek his blessings for being a perfect student like Ganesha!
The story goes that in his first book of the Mahabharata, Vyasa asks Ganesha to aid him in writing the text, but Ganesha imposed a condition that he would do so only if Vyasa narrated the story without pause. Vyasa replied with a counter-condition, that Ganesha must understand the verse before he transcribed it. Thus Vyasa narrated the entire Mahabharata and all the Upanishads and the eighteen Puranas while Ganesha wrote.
वक्रतुन्डाय हुं
व्यां वेदव्यासाय नमः
vyāṁ vedavyāsāya namaḥ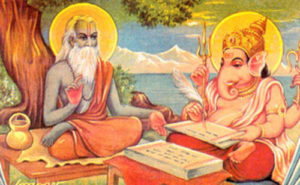 व्यासय विश्णुरूपाय व्यसरूपाय विश्णवे।
नमो वै ब्रह्मनिधये वासिष्ठाय नमो नमः॥
vyāsaya viśṇurūpāya vyasarūpāya viśṇave|
namo vai brahmaniḍhaye vāsiṣṭāya namo namaḥ||
I hail thee, Vyasa, again and again,
Thou, scion of Vasishta's ancient race.
It is from Thee that all knowledge springs
Prayer to the Goddess Sarasvati.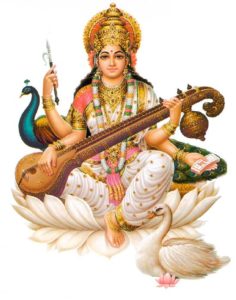 या कुन्देन्दुतुषारहारधवला या शुभ्रवस्त्रावृता
या वीणावरदण्डमण्डितकरा या श्वेतपद्मासना ।
या ब्रह्माच्युतशंकरप्रभृतिभिर्देवैः सदा पूजिता
सा मां पातु सरस्वति भगवती निःशेषजाड्यापहा ॥
yā kundendu tuśārahāradhavalā yā śubhravastrāvṛtā
yā vīṇāvaraḍaṇḍamaṇḍitakarā yā śvetapadmāasanā |
yā brahmācyutaśankaraprabhrtibhirdevaih sadā pūjitā
sā mām pātu sarasvati bhagavatī niḥśeṣajāḍyāpahā||
Salutations to Devi Sarasvati who is pure white like the jasmine flower, with the coolness of Moon, the brightness of Snow and shines like the garland of pearls; and who is covered with pure white garments, whose hands are adorn the Veena (as stringed musical instrument) and the boon-giving staff; who is seated on a pure white lotus, who is always adored by the trinity Brahma, Vishnu (Achyuta) and Shankara and other Devas. Oh dear Goddess Sarasvathi, please protect me and remove my ignorance completely.
Peace Prayer from Brhadaranyaka Upanishad –
ॐ असतो मा सद्गमय ।
तमसो मा ज्योतिर्गमय ।
मृत्योर्मा अमृतं गमय ।
ॐ शान्तिः शान्तिः शान्तिः ॥
oṁ asato mā sadgamaya |
tamaso mā jyotirgamaya |
mṛtyormā amṛtaṁ gamaya |
oṁ śāntiḥ śāntiḥ śāntiḥ ||
Lead me from falsehood of the Unreality of the phenomenal world to truth of the eternal self.
Lead me from darkness of Ignorance to light by the pursuit of Spiritual Knowledge
Lead me from death due to bondage to the mortal world to the immortality gained by knowledge of the immortal Self.
Om, Peace, Peace, Peace, May there be peace at all levels.